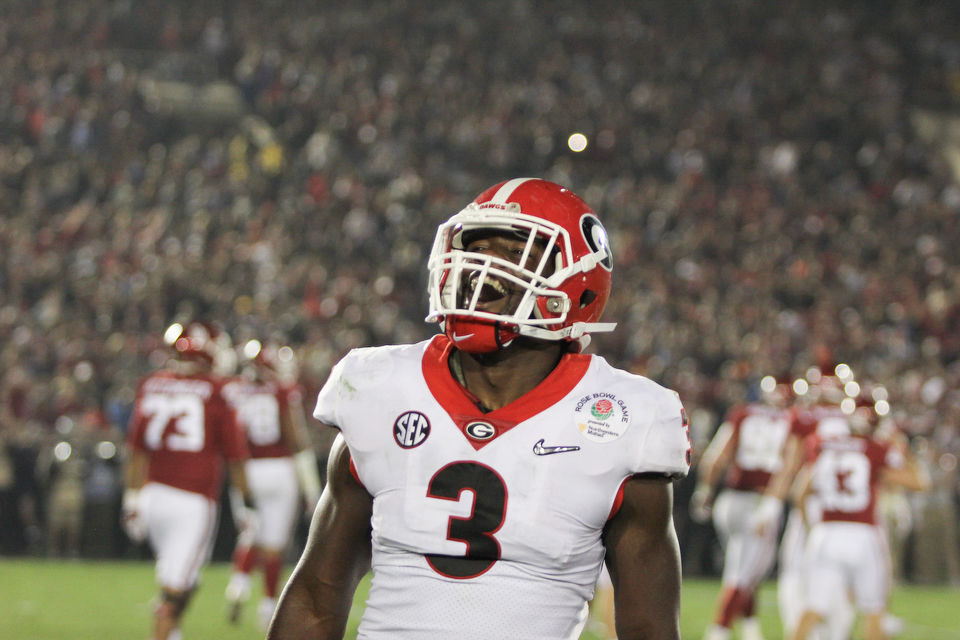 .  
Nick Chubb 
Not so long ago, there was talk that Nick Chubb would be taken early in the first round. But due to injuries, Chubb's stock has taken a bit of a hit over the years, as he likely won't even be the first player named Chubb to be drafted in 2018. Nick's cousin Bradley Chubb aside, the Chubb from Georgia has a chance to be taken in one of the first three rounds off of talent and name alone. More likely than not, due to the talented crop of running backs in the 2018 draft class, Chubb will be taken in the third round by a team that could use more depth in the backfield.
Roquan Smith 
After an impressive season that culminated in a Butkus award for Roquan Smith, the question isn't what day the linebacker will be taken. There's no question Smith will be drafted on the first day thanks to his speed, athleticism and tackling ability. But whether he will be taken in the top-5, top-10 or top-15 is still up in the air. It will be worth tuning in on April 26. He has gotten buzz to go as high as No. 6 to the Indianapolis Colts.
Lorenzo Carter 
Lorenzo Carter has all the intangibles to be a star in the NFL. Although he never put up eye-popping numbers in his time at Georgia, he did enough to keep his draft status high because of his undeniable talent. Carter could be taken as high as the first round by a team in desperate need of a pass rusher. It would be surprising to see the outside linebacker not get drafted in the first three rounds.
Sony Michel 
Michel had all the production and the talent to be considered an early-round pick before his senior season. But after rushing for 279 yards and three touchdowns in two College Football Playoff games, Michel began to hear his name mentioned in the first round in some mock drafts. He didn't do a ton to bolster his case at the combine or Georgia's Pro Day, but Michel should still be expected to be off the board in the late first or early second rounds.